Introduction
In these constantly evolving times, laptops keep getting a makeover. As they are necessary for everyone, many users prefer certain features and so laptops with mechanical keyboards have become all the rage. The laptop industry recently has turned into the ultimate battlefield for leading laptop vendors. New models arise, claiming the latest and fastest processors. There are many users who like a certain feeling for their hands and are always disappointed by the keyboards.
Latest update on 2022-11-19 | Images | Affiliate links from Amazon Product Advertising API
Manufacturers chose to bring in laptops with mechanical keyboards to make the market even wider and allow more innovations. We have narrowed down the top-rated laptops with mechanical keyboards for you. Integrating the massiveness of mechanical keyboards with the thinness and lightweight aspect of laptops with precisions is a factor that deters many brands from experimenting, but it does not stop all of them.
In this article, we have listed the top five laptops with mechanical keyboards along with the whole process of buying.
What is a Mechanical Keyboard?
A mechanical keyboard uses real, material switches underneath the keys to deduce when the user pushes a key. When you press a key, you are pressing its switch down. Pressing the switch down enables the keyboard to transmit a signal to the system, which acknowledges the keypress. These switches are solely responsible for making the clacking sound that is famous amongst mechanical keyboard enthusiasts.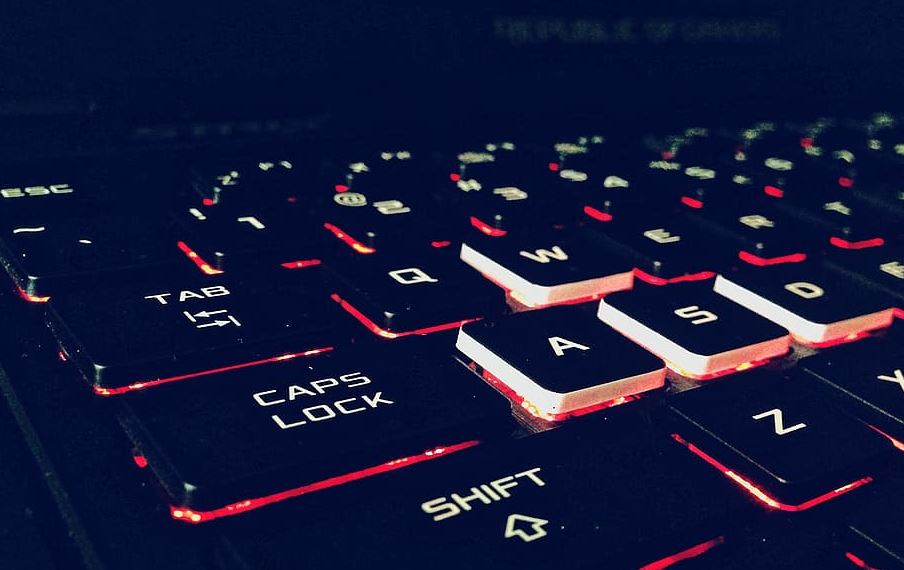 These switches work by using many moving parts: a thick plastic shaft that contains two metal connections and a spring that goes underneath. Most regular keyboards comprise of a set of plastic membranes, with a rubber dome switch underneath every key.
Due to the durability and formation of the switches, mechanical keyboards are of high quality and last longer. Why? Regular keyboards are there to act as the inexpensive option because vendors need to put out computers in large numbers.
Advantages of Using a Laptop with Mechanical Keyboard vs. Regular Keyboard
Mechanical keyboards last longer and are of top quality while regular keyboards tend to destruct easily and have average quality
A laptop with a mechanical keyboard saves you from the trouble of having to buy one separately and delivers better gaming experience and overall usage while laptops with regular keyboards are not fast enough
Mechanical keyboards have more direct feedback and standard keyboards take their time
Laptops with mechanical keyboards are heavy duty, sturdy and feel ten times better than those with regular keyboards
Mechanical keyboards have a beautiful color range with their switches along with sensor options, and normal keyboards are not that colorful or full-featured
Laptops with mechanical keyboards are made for gamers and provide blazing fast speed and efficacy in everyday tasks as well, and normal keyboards cater only to basic everyday tasks
5 Best Laptops with Mechanical Keyboards
The Razer Blade Pro 17 laptop strives to wrap the functionality of a gaming laptop and a workstation in an elegant slim aluminum package. The laptop is the latest to integrate Intel's 10th Gen octa-core H-series processor and Nvidia's RTX Super graphics processing unit. Moreover, Razer upgrades its ever-beautiful displays to a 300 Hz rate, which is music to the ears of gamers who are always in pursuit of smooth and stable graphics for outstanding accuracy.
The mechanical keyboard of the Razer Blade gives a desktop-level experience that feels tactile, precise, and is responsive for both work and play. It allows you to have a mechanical keyboard's magnificence without the bulky feel and keeps the laptop thin and elegant. It features the full spectrum of Razer Chroma where every key is backlit individually and it allows endless personalization with the track pad. The Razer Blade Pro 17 comes with numerous USB ports, an HDMI output, and an SD card reader yet still spares ample room for expandability.
It is both a gaming laptop and workstation as it comes with enough ports to support both endeavors. Razer also encompasses an interface card that can handle extensive wireless connectivity. With the abundance of its features and the space employed for its mechanical keyboard, the Razer Blade measures a smart 0.88-inch thickness and weighs an adequate 7.8 lb. This is the slimmest laptop that comes with a GeForce GTX 1080 inside it, and this product is labeled as being a desktop inside a laptop. It offers everything in a fantastic package.
Pros
Cooling system
Elegant design
Grand speed
Amazing audio
Cons
Limited battery life
Expensive
Verdict
Razer has amassed quite a name among laptops that incorporates mechanical keyboards with the utmost efficacy. If you desire the desktop experience in a smaller and more portable way, then the Razer Blade Pro 17 is your way to go.
The build quality of the Eluktronics MECH-17 G1Rx laptop is unprecedented, and the covering is exceptionally sturdy and is made of aluminum. Its plastic portions on the screen's frame are secure. One of its best specs is the mechanical keyboard which goes strictly with the gaming laptops, yet it is a relatively rare trait. Another fantastic attribute of this laptop is its less heat-up with its Ice Blade Hyper fan technology. This model is more competent than its predecessors are because it is loaded with stunning graphics and technology that make it very fast.
It incorporates the latest mechanisms, thermals, and crisp of display of 144 Hz, making it a top choice, especially for gamers. Its 9th generation plus core i7 processor makes it a super-fast machine as compared to many other laptops. This laptop's best thing is Nvidia GeForce RTX 2070 graphics that make it power over all other models of Eluktronics. It gives hyper-realistic graphics for gaming because of its fantastic graphics-processing unit that gives you stunning animations.
It has 13 blade fans coupled with a new vapor chamber for the ultra-cool and peaceful performance of gaming and all other heavy software usages. The NVMe SSD in it has one goal, and that is to introduce exceptional load speeds while also giving a much more pleasant user experience overall. This NVMe drives guarantees that games will load quicker and deliver a promising output, and all the other operations will execute quickly and efficiently.
This laptop comes with an IR Webcam that observes infrared energy, converts it into an electrical signal, which processes to generate a thermal image on a video monitor, and does temperature calculations and making the image sharper and impeccable.
Pros
High quality
Slim
Robust
Good battery life
Cons
Value for money
Lacks in audio quality
Verdict
A favorite among many, the has all the features and delivers precision, speed, quality while also being reasonable in price. It also adds in extra features to help battle heat issues saving you much expense and stress.
The CyberPowerPC Tracer III Slim VR GT415SVR100 laptop packs a desktop gaming rig system into a slim form that measures 15.6 inches. It is a compact and powerful gaming laptop that features an i7 processor. It proposes a smart modern aluminum layout and comes with top of the line performance components for best output. Even with its light and sleek profile, Tracer all does not sacrifice performance. This laptop features an expansive 17.3-inch non-reflective display that rises to 1920 by 1080 screen resolution and a refresh rate of 144 Hz for sharp and vibrant graphics.
All this is powered by the NVIDIA GeForce graphics processing unit to enable a desktop-level gaming experience. It features a full-size mechanical keyboard that includes numeric keys for the ten key operations. It also has RGB backlighting for illuminated gameplay to enhance your experience even further. This laptop comes with a 9th generation Core i7-9750H processor. Its six cores can attain a base clock speed of 2.6 GHz and be elevated to 4.5 GHz.
It delivers plenty of port options such as HDMI outputs for high resolution, and all the connectivity inputs that you could need. Its processor with its faster and intelligent technology involves processing power where it is needed most and delivers a tremendous breakthrough in performance. You can multitask applications much faster and enjoy amazing digital media creation. It allows you to get the best feeling out of every operation you need to perform.
You can now demolish boundaries and step into your games with graphics more remarkable than ever with its DirectX 12 technology. It is armed with massive features but also programmed to reduce power consumption for more prolonged usage.
Pros
Beautiful design
Great speed
No heat up
Exclusive features
Cons
Abysmal battery life
Weak speakers
Verdict
The CyberPowerPC Tracer III Slim VR GT415SVR100 laptop is the best purchase for those on a budget, and it offers all premium features and components while ensuring the best level of quality for users. Your gaming experience will escalate to new heights with this powerhouse of a laptop.
While most gaming laptops have concentrated on achieving slimness, that is not the goal for Aorus 17. This laptop measures in at about 17 inches and weighs thirteen pounds. Its Nvidia GeForce RTX 2080 graphics processing unit and Intel Core i9-9980HK CPU lead up top-end gaming performance, and that is as much as you can expect given its size and hefty price tag. The Aorus 17 is a durable high-end laptop that delivers everything with power and dominance. Its size can be owing to the fact that it incorporates a fully mechanical keyboard.
The keys are all individually backlit. You can also customize every key's lighting color and effect, which it enables through its software: the Aorus Control Center. This software also lets you alter the chassis lighting and fan speeds. You can also monitor components, use shortcuts for applications and settings. It has a remarkable 1920 x 1080 resolution. It is sharp and intense and the thin bezels throughout let you keep the focus on screen and game on without any distractions.
The laptop is loaded with ports, including the headphone and mic jacks, plus many USB, HDMI, and Ethernet ports. There is also an SD card reader slot. It has an eight-core 10th-gen Intel Core i9-10980HK processor, along with a Nvidia GeForce RTX 2080 graphics card. With all this, it delivers exceptional performance, high-level speed, and overall magnificent quality in whatever you choose to do. It can play all hefty games without any lag or glitches.
Auros 17 comes with an AI engine that runs in the background and utilizes Microsoft Azure that helps it manage the graphic processing unit and CPU load better.
Pros
Powerful
Robust
Heavy duty
High performance
Cons
Very bulky
Tends to get loud
Verdict
Though the Aorus 17 laptop may be bigger in size and price, it delivers a blazing performance keeping all the features in top-notch level. Aorus is a beast of a machine that does it all with more power and precision than most laptops.
The MSI GT75VR Titan Pro laptop is chunky but once you get past this aspect, this laptop packs a particular punch in delivering everything you can desire. When you consider optimal performance, MSI GT75VR Titan Pro is a definite yes. This laptop is complete opulence as its looks have been given special attention in regards to design and layout. Supplied with a stunning 4K IPS 17.3-inch display, ultra-fast CPU, powerful Nvidia Geforce GTX 1080 graphics processing unit, and a delightful mechanical keyboard, the MSI GT75VR Titan Pro promises one of the best gaming experiences.
The MSI GT75VR Titan Pro maintains its long term aesthetic by mixing a group of customizable LED lights and black aluminum framework. The laptop has a mechanical SteelSeries keyboard outfitted with individual RGB backlights that allows users to customize the look of the keyboard. It offers grand connectivity, amazing audio quality. Equipped with a seventh-generation Intel Core, with an Nvidia Geforce GTX 1080, it can handle everything you throw at it without causing delay or lag.
It measures 16.85 inches and ten pounds; however, it offers a ton of room for quick modification and terrific ventilation. The Titan Pro is built like a tank, which means it is sturdy and highly durable. The display lid is a little more pliable, but the hinges are crafted well enough and can hold their own under pressure. This is the kind of machine you get for when you desire the power level of a good desktop but with adequate mobility.
Pros
Amazing performance
High-level build
Top of the line features
Customizable
Cons
Verdict
The MSI GT75VR Titan Pro is undoubtedly a gamer's dream with the list of premium features it offers; however, it comes with a price tag to match it all. Much like its name, its titan build is backed by all the potent precision and speed that it offers.
Things to Look for Before Buying Laptops with Mechanical Keyboards
It is a given that laptops with mechanical keyboards are gorgeous in looks and high in performance, but there are some elements you must always look for:
Size and Weight
You must always consider the laptop's overall size and profile that comes decked with mechanical keyboards as these keyboards are on the heavier side. Going with the utmost portability is the key. Many such laptops are cumbersome in size but some are lightweight. In the end, it all boils down to your preference, budget, and the level of mobility you require in your daily life.
Switches
Mechanical keyboards have a wide variety of switches; they come in attractive layouts but all of them differ in functionality and placement of options. Thoroughly research which layout you like and whether the laptop you are eyeing comes with that switch layout. However, many laptops with mechanical keyboards are customizable.
Battery Life
Battery life is the most important aspect because, if you are spending money, you always need to opt for the best. A laptop with a mechanical keyboard takes extra power due to its enhancement level, so it consumes power to support all the fancy switches and backlighting. Go for one that will allow you reasonable battery time without compromising performance.
Brand
You must stick to brands that have a certain reputation. They will always deliver the best and will only increase the features, power, looks, and components, as they know how to deliver it all side by side. Trying out new brands is not the way to go with this gadget.
Recommendation
Out of all these powerhouses, the Razer Blade Pro 17 laptop is our favorite. It is stuffed with many high quality attributes while keeping durability, mobility, and efficiency at the core. It features a mechanical keyboard that is fitted without adding extra weight or hindering the overall performance of this beast and is the perfect pick despite being pricy.
This laptop not only caters completely to the needs of gamers, but also comes prepared to accommodate those who require everyday usage, substantial heavy software practice, and much more.
Conclusion
We have listed all the best ranked laptops with mechanical keyboards for you to choose from along with everything else that you need to know. Nevertheless, everything comes down to preference and, with a world of possibilities available, you can always find your pick. Just be mindful of the things we explained before purchasing to ensure you make the right choice that benefits you in the long term.