Introduction
RC drone flying is one of the major gadgets of people nowadays and the demand for it has increased every year. Furthermore, it is also one of the most widespread pastime of many people. With the passage of time, RC drone flying has become more and more mainstream.
This has led to drone equipment to becoming more sophisticated, and hence more expensive. As drone flying sometimes involve flying over deep water, drone gear has a really good chance of getting dropped and lost. Recovery systems for gear have hence been invented to be the answer to this problem.
How Does a Gear Recovery System Work?
When flying drones over water, gear can get lost or sink to the bottom, a gear recovery system is used to fetch it back. They work on the principles of small blasts or reactions that then propel the recovery system to the surface. These are the safest and often quickest ways to recover the equipment that gets lost underwater. It usually consists of an unbreakable Velcro strap that attaches itself to the lost items and propels them to the surface.
GetterBack Review – Underwater Gear Recovery System
GetterBack is the pioneer in the market when it comes to gear recovery. They took the market by storm due to their recovery system being a new invention and was released initially in Australia.
In short, it is a very tiny device that is capable of bringing your rod, drone, helicopter, and camera back to the surface. It can be installed and fitted in seconds. It consists of a very sturdy and non-destructive strap. Even when the water is only a few feet deep, it can function quite easily. Once released, the safe and eco-friendly reaction from the GetterBack jettisons gets the gear back to the surface. Once the gear comes back on top, you attach the braided strap to the equipment and pull back your fishing gear.
Features of the GetterBack Recovery System
The GetterBack can descend around five feet into the water due to its specially designed check valve. As soon as it submerges into the water it activates a non-toxic reactant of carbon dioxide the pressure of the form inside the recovery gadget up to the point where a pressure of 60PSI is created in the float section. As soon as the float device comes up to the surface, the line is un-winded. The float is brightly colored which makes it easier for you to spot your device and recover your gear. The Getterback is a very innovative product and is built for all kinds of situations.
GetterBack Recovery System – Things to Know
Functions Properly Even If Drone Lands Upside Down or On Side
Most people think that a recovery system works well only if the gear or drone has landed completely straight. However, with GetterBacks's technology, this is not the case. When the drone lands face down or facing sideways, the nose cone will still deploy some of its speed and is capable of clearing any structure irrespective of the position, even if there is something in front of it. There is an air chamber that is in the nose cone, and that sends it to the surface very quickly. This means that you have a better chance of recovering your potentially lost drone.
Weatherproof Design for Gear Recovery
The Getterback gear recovery has been designed to be waterproof. It is designed with an airtight seal that keeps the rain and humidity out. Furthermore, this design also allows it to operate the device at any depth. Not only is it weatherproof, it can also be used safely in salt-water. This means the GetterBack is pretty much the most versatile recovery device out there.
Attached Drone
This is perhaps one of the most innovative design features of this device. It can monitor and protect your gear, as it floats over the water at a safe distance close to you. This means that you can have full confidence before sending your gear into the water.
Short Return Time
The GetterBack is designed to bring your gear back to the surface in a very short time to ensure minimal damage. It usually takes not more than one to two minutes. However, the time can vary since it depends on the sinking rate, the depth of the water body as well as water temperature.
For instance, in warm water, a fast sink rate can be experienced for up to 10 feet, resulting in a short time while a very slow sinking rate can be seen in cold water, so for around 100 feet it may take up to five minutes for the gear to come back up to the surface.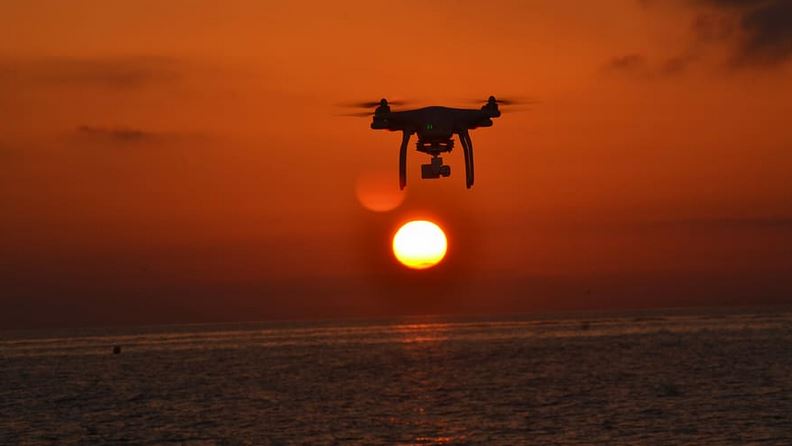 Can be Mounted on Anything:
Getterback recovery device is multipurpose. While it is designed keeping a drone in mind. However, it can be as easily mounted directly onto your fishing gear or even other kinds of equipment used near water. Furthermore, it is so compact, that you can even carry it around in your pocket for last minute decisions. The small size makes it easy to be mounted onto anything, no matter the size of the object to be used for mounting.
As long as the product is 10 pounds or less, it can be easily fixed seamlessly on the object. The actual line stress of the strap is around fourteen pounds, however to avoid over stressing the line, ten pounds is recommended. The Velcro strap is multipurpose and works with almost everything, however using tie wraps is another great option if you wish to mount the Getterback on different things.
Portable
When the portability of any product is mentioned, usually it means the product is light, or small, or travel ready. However, with Getterback, it means all three. The Getterback gear recovery is designed to be tiny and easy enough to fit in your pocket without any trouble. While most people question if the reactive substance makes it safe to even carry at all, the answer is yes. Getterback has been designed with the highest standards of safety in mind, which can clear all ship and airplane travel restrictions. This means that you can board a plane with the Getterback in your pocket without the fear for safety or being forced to drop it.
If the cabin pressure is your concern, please understand that there isn't any such safety concern. The lower cabin pressure will not damage the device. If you place the device in checked luggage, even then the temperature may be lower but this will not be a problem since the pressure is same for the luggage carrier and the passenger cabin. The size is absolutely manageable, so no matter how far the journey or how limited the space.
Pros
Lightweight: The tiny size of the Getterback makes it the perfect companion for all your trips and all kinds of gear. It gives you the peace of mind when you carry it anywhere, as well as freedom and flexibility of using it on any kind of device.
Safe: although the Getterback works on the principle of a small underwater reaction, it is completely safe. The reaction components are completely non-toxic and non-poisonous. This means that neither is it unsafe for humans, and it is completely safe for aquatic life as well.
Eco-friendly: The one thing that sets this apart from many other products is that It is eco-friendly. From the reactive substance to the gases emitted underwater, all are eco-friendly that do not pollute the air or the water, neither harms any life forms.
Versatile: The Getterback is a very versatile product that can support weights up to ten pounds, can be mounted over anything and is not just limited to fishing gear or gear of one kind. It is equally usable for all kinds of gear.
Easy to spot: the device has been painted a bright color so that it is easy to spot on the surface of water.
No adverse effects: the chemical or physical makeup of this device does not in any way affect the battery life of any drones or meters, neither does it affect the performance of any gear.
Cons
One time use: the biggest downside to the device is that it is a one-time use device. Since it isn't exactly very cheap, it may not seem like a great value for money product, considering it can be used for a single time only.
Depth limitations: Although on paper there are no depth limitations for Getterback, it works faster when depth is around 10 feet. Any deeper than this and your gear may face damage.
Needs remodeling: Most of the times, the Velcro strap needs a little remodeling to fit most gears.
Getterback Alternative – Other Drone Recovery Float
Although Getterback is the best device on the market for the job, there are several other products that you can turn to in case Getterback is unavailable in your area, is out of your budget or you may be looking for slightly different features.
Waterbouy is Getterback's major alternative in England. It is similarly designed, however has a shorter recovery line and works on the principle of buoyancy.
This is a simpler and less sophisticated alternative for Getterback in the market but is limited to Mavic gears only.
Final Thoughts
Drone gear or any other water activity equipment is expensive. You shouldn't have to be in constant worry about losing your gear underwater while doing your job or indulging in your favorite pastime. Therefore, it goes without saying that investing in a Getterback recovery device is a great idea. This ingenious new product is highly recommended to people who are constantly worried about losing their pricey and important gear overboard during drone flying or similar activities. This can be safely handled and used for kids and their water equipment as well.