Introduction
Vinyl music is not going anywhere anytime soon and is here to stay. If you are trying to upgrade your existing vinyl setup or are willing to buy a new one altogether, then keep on reading as we have got some of the most smattering selections from the premium as well as the budget end of the market.
The best thing about vinyl is more than just the sound. It is all about the experience. Those legendary posters that you can hang on the wall and that rugged feeling of stylus scraping the surface of your record are all part of it.
In this review, we have brought you the top 10 vinyl record players that will give you the same retro experience. We have made sure that the products we choose do not burn a hole in your pocket yet still provide you with the high quality music that you deserve.
What is a Direct Drive Turntable?
A direct drive turntable is run by a motor that is located directly underneath the center of the platter. Direct drive is an upgrade to the old belt drive mechanism which is more prone to wear and tear and requires some time to reach its full speed. Direct drive, on the other hand, starts quick and does not require any maintenance.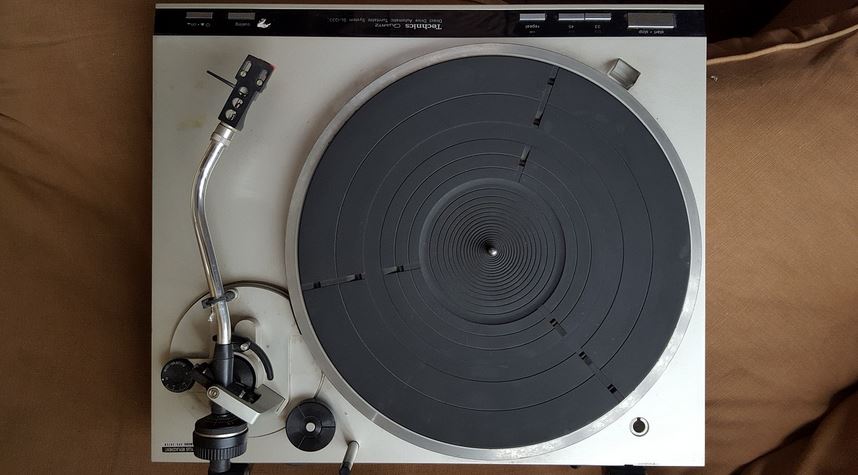 A direct drive turntable has a DC motor that always runs at the correct RPM which can make the record more prone to scratching. If the DJ wiggles the disc back and forth, the motor will still run at its full speed which can give a backslash and scratch the record.
Furthermore, direct drive turntables are also susceptible to more vibrations as the motor sits directly underneath the platter; this can affect the sound quality of the music. However, most of new models use the latest technologies which minimize the impact of vibrations on the music. They use shock-absorbing material or spring technology to reduce the impact of vibrations.
Direct drives also have a faster rotation speed and a higher torque which means that they are less affected by the external forces like the stylus friction. The higher torque also means that there is less distortion when the record just starts to play.
Direct Drive vs Belt Drive Turntable
Belt Drive Turntable
A belt drive is essentially an elastic belt that is directly attached to the motor; it offers a more precise and stable rotation. The isolation on a belt drive is very good as the platter sits on a bearing that is isolated from the motor.
The belt drive takes it benefit from the bearings. The bearings give it both rotational and linear movements which makes it incredibly stable and precise.
The elastic belt is more resistant to vibrations. Since the belt is elastic, it will absorb more impacts from the motor vibrations. Belt drives are better for people who want longevity in their equipment because it will prolong the platter's life. Furthermore, belt drives are known to produce better sound quality.
Since the belt drive reduces the vibrations, the output sound is cleaner and crisp. Noise reduction is a priority for vinyl players because the lower the noise, the better the sound quality.
While they may work extremely well for noise reduction, they have some disadvantages. First, they are more prone to wear and tear as the elastic belt often needs replacement. Furthermore, they have a lower torque which makes them more prone to damage by external forces; that is why the belt drive has a slightly less accurate playback.
Direct Drive Turntable
A direct drive turntable is more reliable than the belt drive. The platter in a direct drive is mounted over a DC motor directly which gives it the ability to start up quickly. They have more consistent playback and stronger torque. Due to their reliability, they are preferred by many professionals.
The direct drive doesn't have to deal with the belt degradation and have a higher playback quality. Their higher torque and consistent speeds are a benefit for most of the DJs.
The only thing that is of a concern in a direct drive motor is the vibrations produced by the motors. The newer technologies help minimize this effect but the effect is still noticeable as compared to the belt drive players.
Is Direct Drive Turntable Better Than Belt Drive?
So what is better: a belt drive or a direct drive? It all depends on your personal preference. If you want consistent speeds and high quality playback, then you should consider picking a belt drive; it gives you a classic design and consistent old school playback experience. But if you are into something that gives you long term playback and ease of use, then you should go for a direct drive player.
There was a heated debate amongst the audiophile circles as to which is the best option for professionals. There are some high quality turntables that still use belt drives, so there must be a good reason as to why belt drives are still used. Direct drive turntables indeed have more sales owing to their durability and ease of use, yet true vinyl lovers prefer belt drives.
In the end, it is very subjective since there are a lot of products in the market with a wide range of variance in their qualities. While some may sound better to one set of people, others may perceive it differently. Be sure to check out the sound of the record player before you make a purchase.
Advantages of Using a Direct Drive Turntable
Direct drive players have a motor at the center of the turntable. They can reach their full speeds in a matter of seconds and the speed remains constant. They are not that precise but provide good sound quality. The quality depends on the motor and how well the connection is made with the motor. They have a heavier platter which is used along with the vibration dampening feet to reduce the vibrations. Hence, direct drive turntables are the best choice if you want to manipulate the records while playing on the platter and want less bouncing with consistent speeds.
As far as the sound quality is concerned, direct drive turntables have performed much better over the years and have incorporated newer technologies to dampen the vibrations.
10 Best Direct Drive Turntables
The Audio-Technica AT-LP60 is perfect for beginners who do not want to burn a hole in their pocket yet still want to enjoy every dip of the music. It is a high quality portable record player and is probably the cheapest. Considering the price per feature factor, this turntable is certainly worth it.
It will play most of your records and you don't even need to spend more on buying separate equipment for an amplifier as it comes with a phono preamp. There are other cheaper vinyl players on the market but they are mostly poorly made and you can risk destroying your record. But with this vinyl player, you get the surety that it will not harm your records as it is a fully automatic turntable that will lift off the tonearm when the music stops playing.
Key Features
Fully automatic 45 RPM turntable
Built-in pre-amplifier with TCA output
Dual magnet phono cartridge
Anti-resonance die-cast Aluminum platter for vibration dampening
Front panel controller
Removable dust cover
Pros
Fully automatic
Excellent value for money
Dust cover
Anti-vibration
Cons
Can't replace the cartridge 
Passable sound
Verdict
The Audio-Technica AT-LP60 model is great in the sense that it is cheap but it doesn't suffer from a poorly aligned stylus and improper positioning of the cartridge. It is a cheap and reliable alternative for the more expensive brands.
The Denon DP-400 Semi-Automatic is a good looking turntable that works just as well as it looks. This is a great starting choice for those who don't want to manually maneuver through the player to lift off and put on the stylus to play the music.
Many people have the habit of falling asleep while listening to music. The automatic operation of this turntable ensures that your records do not get damaged due to the continuous contact of the stylus. The tonearm immediately returns to its default position when the record is not playing.
For a budget turntable, the built quality is pretty decent. The only thing we didn't like was the buttons which felt cheap, but this shouldn't be a problem as it is understandable that companies cut costs on some of the lesser useful features to provide an overall better quality,
Key Features
Digital automatic turntable
Supports up to 78 RPM
High quality drive platter
One-touch controls
Supports both MM and MC cartridges
An auto lift tonearm
Built-in phono preamp
Pros
Semi-automatic
Great sound for the price
Support for all types of cartridges
Great finishing
Cons
Plastic build
Buttons feel cheap
Verdict
The Denon DP-400 Semi-Automatic is an elegant turntable that works well. Its included cartridge is not that accurate but it manages to produce high quality music.
The Fluance RT81 Elite is an outstanding choice for enthusiasts who are just starting in this domain. With its simple to set up installation and switchable cartridge, it is perfect for newbies. The good thing is that the amp is built in so you don't have to worry about getting a separate one.
Keep in mind that this is a semi-automatic model. This essentially means that it stops the platter from moving to prevent wear and tear but the tonearm still needs to be moved manually.
This isn't much of a concern, but for those who want a fully automatic turntable, you might want to look elsewhere.
Key Features
Purely analog turntable
Diamond tipped stylus to track the record
Aluminum S type tonearm
Walnut finish from solid wood
High quality built-in phono preamp
Gold plated RCA line outputs
Pros
Great sound for the price
Decent sounding phono preamp
Gold plated RCA output
Highly durable tonearm
Cons
Unsatisfactory vibration damping
No auto returning tonearm
Verdict
The Fluance RT81 Elite is a great quality budget turntable that focuses on high quality music production and convenient installation.
The Marantz TT-15S1 falls on the premium end of the spectrum but considering the quality of this turntable, you are getting a bargain. Its tonearm is just perfect and it is overall worth the investment.
Looking at its features, we can say that they have given extreme attention to details. The sleek and smooth outlook it projects gives a premium impression in its first looks.
However, we would advise the newbies to stay away as it requires additional knowledge to set it up properly. For the more experienced, this is a bang for your buck.
Key Features
Vibration free-floating motor mount
Plinth drive operation with an AC motor and a heavy platter
Virtuoso Phono cartridge
Anodized aluminum manual tonearm
Ebony wood and diamond stylus
Lightweight aluminum cantilever
Adjustable aluminum feet for a strong base
Pros
Elegant design
Excellent attention to aesthetic detail
Stylus made of ebony
High quality cartridge
Cons
Very expensive
Other products have the same features in a lesser price
Verdict
The Marantz TT-15S1 is a premium turntable aimed at a very specific customer base to provide the highest quality sound possible.
If you have a lot to spend on your turntable and you want the top of the line record player, then Cambridge has got something for you. The Audio Alva TT is a premium turntable will take your DJ skills to the next level. Whether it is a concert or you just want to listen to your vintage collection, this turntable will do it all.
We like that it is aptX supported and can directly stream it wirelessly without any loss in quality. The quality of this turntable has set up a benchmark for other turntables like the Rega or Clearaudio.
However, do note that it is the most expensive turntable from Cambridge and it is specified for a selected customer base.
Key Features
Direct drive system with medium torque
One-piece tonearm
MC cartridge that comes pre-installed
Comes with a phono stage box for convenient storage
Alva pre amp reduces sound vibrations to a minimum
Bluetooth enabled streaming
Pros
Hi-res Bluetooth wireless streaming
Easy to set up
Long life
Vibration dampening feet
Cons
Can slip from its place while playing
Hard to remove the cartridge
Verdict
The Cambridge Audio Alva TT focuses on only one thing: high quality music production.
Coming with an easy assembly and the provision to stream wirelessly, this Audio-Technica AT-LP60XBT budget-friendly turntable can be in the collection of an enthusiast.
We felt that the plinth is somewhat at the lower end, and a sound production that can use a little bit of more detail. However, the price tag compensates for that. Furthermore, it has Bluetooth connectivity which is great.
The cartridge is where this turntable wins. The ATN3600L conical stylus is perfect for accurately detecting all the grooves on the record for accurate playback.
Key Features
High quality audio
Bluetooth enabled wireless technology
Stream seamlessly to your wireless speakers and other devices
AptX codec compatible
Fully automatic turntable
Two-speed operation
Anti-resonance die-cast aluminum platter
Pros
Best value for money
Easy to setup
AptX enabled Bluetooth streaming
High quality aluminum platter
Cons
The audio could use a little bit more detail
Built quality feels a bit cheap
Verdict
The Audio-Technica AT-LP60XBT is a budget-oriented turntable that reveals all the details in your songs and makes the music a joy to listen to.
This fully automatic turntable allows you to play music with just a push of a button. It has a phono stage for storage and a high quality removable cartridge that can be swapped at your preference.
The Audio-Technica AT-LP3BK is a budget turntable but is of very good quality. The separate controls for volume, speed, and size are an absolute convenience and you can switch quickly between multiple records.
The thing we didn't like was the non-detachable interconnects which can restrict how far your turntable is from the amp.
Key Features
Straight tonearm with ½' universal head shell
AT91R dual magnet cartridge
Accurate stylus level for safe playback
Fully automatic operation
Die-cast aluminum platter and 4 mm rubber pad for reducing vibrations
Able to play records at 35 RPM and 45 RPM
Dual RCA output for connection to home stereo
Pros
Clean and crisp music
Detailed highs and lows
Built-in phono stage
Fully automatic tonearm
Cons
The stylus could have been better in quality
Quality loss in RCA output
Verdict
While the sound may not be so enjoyable for enthusiasts, its price is tempting. With an easy upgrade option, you can do a lot with the Audio-Technica AT-LP3BK Turntable.
1byone is a mid-range wireless record player that is tuned for performance and stability. It is known that increasing the performance often decreases the compatibility but this turntable has achieved a balance between those two spectrums.
It incorporates a counterweight that gives more precise and stable rotation speeds. It has a wide range of connectivity and it can connect to any of your RCA outputs; at the same time, it gives you high quality wireless streaming.
Key Features
Precise iron platter for increased stability
Adjustable counterweight
Easy to switch phono line and a built-in preamplifier
Dual RCA output
High quality wireless streaming
Pros
Stable rotation
Precise playback
Wireless streaming
Phono line is easily switchable
Cons
Streaming loses its quality
Built-in preamp is low in quality
Verdict
The 1byone Wireless Turntable is a good mid-range option for both beginners and professionals.
With its vintage looks and modern features, the Victrola Navigator 8-in-1 gives you the best of both worlds. This retro-looking vinyl player can record your vinyl to MP3 and transfer it to your devices. Features like the CD player and FM radio make it truly unique and bizarre.
You won't have to worry about buying any additional equipment to play your music as it comes pre-equipped with everything you might need.
It includes all the controls you need to control your playback. It works at three speeds which makes it compatible with most of the vinyl records.
Key Features
Personal entertainment center with modern features
Records your vinyl to MP3 and transfers to your devices
High range of connectivity with AUX and Bluetooth included
Three-speed drive with up to 78 RPM of speed
Highly controllable with most of the user controls included
Can be expanded to RCA line outputs
Pros
Includes FM radio
A wide range of controls
Three speed drive
CD player and FM radio
Cons
Low quality RCA line output
High speed can cause a lot of vibration
Verdict
The Victrola Navigator 8-in-1 is a unique piece of craftsmanship, just like all the Victrola's products. Its stylish and retro looks and high quality lifting mechanism combined give a well-balanced sound.
This turntable is as light as it gets. With a suitcase design, the Byron Statics Vintage Turntable has a stylish look. It accompanies a dustproof cover so you no longer have to worry about your records gathering dust while playing.
It is compatible with most of the RCA outputs and you will have no problem attaching it to its two front-facing speakers.
The nice thing about this turntable is that it has a fuse protection system that immediately gets triggered when there is a short circuit; this is a feature most turntables lack.
Key Features
Lightweight and rustic design
Dust cover
3-speed modes
Two front-facing speakers
RCA jack supported
Short circuit protection
Pros
Fuse protection
Front-facing speakers
Dust cover for protection
Automatic turntable with auto lift up
Cons
Sound production is pretty basic
Sound can clip through the preamp
Verdict
The Byron Statics Vintage Turntable is a basic low-end turntable with normal sound production and is fit for beginners who just want to try out the vinyl experience.
What to Look for When Choosing a Direct Drive Turntable
If you are new to the vinyl game, then there are a few things you need to get acquainted with. This section will cover most of the things you need to know before buying or upgrading your setup.
Understanding the Key Parts
Platter: The part that sits on the top of the base.
Bearings: Provide the smooth rotation.
Motor: Responsible for providing torque to the platter.
Tonearm: The part which traces music on the record.
Cartridge: Responsible for turning the energy from the records into electrical signals.
Feet: Specially used in direct drive motors to dampen the vibrations caused by the motor.
Cartridge
Most of the cartridges come pre-mounted to the tonearm. The cartridge itself is composed of different components. The stylus, which is better known as the needle, picks up the grooves and tracks the sound data on the record. It is also responsible for converting the sound data into electrical signals.
Type of Operation
There are three types of vinyl record players and we have mentioned them below:
Manual
In a manually operated record player, you will have to manually lift the tonearm and place the needle at just the right level for the needle to trace the music. If you care about sound quality, then the manual operation is the best choice for you.
Semi-automatic
The semi-automatic is somewhere between quality and convenience. In a semi-automatic record player, you just need to manually lower down the tonearm only once. When the record stops playing, the motor is automatically shut down and the tonearm is set to its default position. This protects the stylus from degrading your record.
Fully Automatic
A fully automatic turntable does all the above-mentioned processes for you. With just the push of a play button, just as in any stereo player, the tonearm automatically sits on the record and starts playing. Once there is nothing left to play, it automatically lifts the tonearm and shuts down the motor.
Recommendation
Although it is on the premium end of the spectrum, we have to recommend the Cambridge Audio Alva TT. None of its competitors even come close to it owing to its high quality build and spot-on sound production. If you are a beginner, then we recommend that you go with the Denon DP-400 as it gives you quality and convenience at a reasonable price.
Final Words
This article aims to provide you with the best quality turntables with a broad range of selection coming from different brands. The products on this list cover almost all the features and quality that one can expect to have in a turntable. With that being said, no one turntable is perfect. Although any of the above-mentioned turntables will work great for you, we would suggest first evaluating your needs and preferences and then choosing whichever turntable suits you the best.