Introduction
You probably own a dozen or so different types of external hard drives that have collected dust over the years. Maybe every once in a while, you end up using one to save a file on and then put it back in the corner, not really knowing what to do with it.
Latest update on 2022-12-14 | Images | Affiliate links from Amazon Product Advertising API
But saving files can mean so much more!
Many people would say that external hard drives are of very little use. We agree that the primary purpose of an external hard drive is to save files; however, we're sure that you could never imagine that such a task could be fun. Once you find out all the cool things you can do with your old hard drives, they won't be sitting around collecting dust anymore.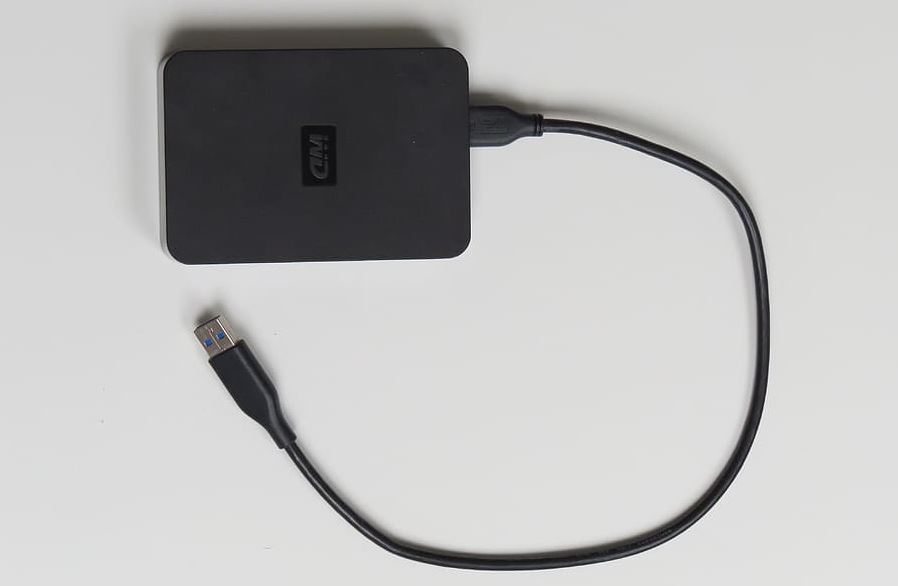 5 Cool Things To With an External Hard Drive
Play Your Favourite Games Anywhere You Like
Ever played a game on your laptop that you just couldn't get enough of? You can now use an external hard drive to save games and take it along so you can enjoy them with friends.
Not only does an external hard drive make it easier for you to share your games, but it also helps avoid taking up any of your laptop's internal space. Most games' file size is 10GB or more, which might cause your system to slow down. Saving your game on an external hard drive will ensure that your laptop or PC processes at the same speed and your gameplay isn't affected. You can also save your progress and take it with you when you go to a friend's house to play.
Sharing pictures or files with family and friends has become much easier due to the various apps available these days, as long as you are only sharing small-sized data. However, what if you want to share all your vacation pictures? Or the movie you recently saw? Most apps will only allow you to send 10 photos at a time; sharing them with other people could take forever.
An external hard drive can make sharing your media so cool and so much smoother. Simply save your media onto a hard drive and hand the drive over to anyone you want.
Make It Your Resume
Making the best first impression in a job interview has always been the most vital aspect; so why not make the experience unique and different from all other applicants?
Most job interviews require the applicant to bring in a copy of their resume and a portfolio of their work.
Walk into an interview without having to juggle papers or folders, look unique and hand over a USB drive that contains all your work.
Wouldn't it be great to stand out amongst 100s of applicants when you apply for your dream job?
Export All Your Songs and Have a Hard Drive Mixed Tape
A couple of decades ago, if you were a music lover, you would probably have a dozen or so CDs or audio cassettes lying around your car. The biggest problem was finding that one cassette that had all your favourite songs on it.
Well life becomes more manageable with an external hard drive. You can keep all your songs at your fingertips. Organize them the way you want so you can spend less time searching for good songs and spend more time listening to them.
Save Copies of All Your Important Documents While Travelling
Who doesn't love to travel? Many travellers keep photocopies of their essential documents; but sometimes you can run into trouble if you lose your passport or other important documents while travelling. That's when an external hard drive comes in handy; save copies of all of your essential documents, a picture of your passport and visa on an external hard drive. You shouldn't rely on a cloud service because not all countries offer free Wi-Fi; even if they do, it might be too slow to access your cloud service. You can avoid all these hassles with an external hard drive and get back to enjoying your vacation.
5 Reasons Why You Should Get a Spare External Hard Drive
Saving Space on Your Internal Drive
The biggest issue with laptops since their initial release is their limited internal space; an external hard drive can help you by expanding your laptop's storage space. You can save most of your apps onto an external hard drive so you open up space for the operating system. The system will work smoother if it does not have any extra apps in its internal drive.
Backing Up Servers and Essential Documents
Even though there are numerous online servers that you can use to back up files, such as iCloud, google drive, or windows home server, you should make a habit of keeping back-ups on an external hard drive, especially of your essential documents. Anything is possible, so you wouldn't want to lose access to your important files at any given time. Since a company could change its policies or run into problems with its servers, keeping a back-up on an external drive is just an act of protecting yourself.
Use an External Hard Drive as a Scratch Disk
When you have substantial formatting jobs to work on in programs like Photoshop, using an external hard drive such as a scratch disk will make those jobs easier. It will take the bulk of your workload off your central operating system so that the system doesn't get overloaded.
Cleaning Up Your Laptop or Computer
Everyone has dealt with a computer virus at one point or another. Some viruses can be more brutal than others, denying you access to the internet or even letting you back into your computer. Having a scanner and/or virus program on an external hard drive will turn the drive into an anti-virus tool; plug it in, and the program will take it from there.
Increasing Security
Some documents that you want to save are so crucial that you won't want to risk saving them on cloud services. There are many different types of programs out there that can spy on you, such as spyware or malware; hence, trying to save those documents online could leak them. An external hard drive can protect and save such documents from various potential threats.
Top 5 External Hard Drives
The MiniStation Extreme NFC by Buffalo is a well-rounded external hard drive that offers a lot for a reasonable price.
Features
This hard drive is compatible with both Windows and Mac devices, making it easier for you to use the same drive on both operating systems
It has a built-in Near Field Communication (NFC) technology; this means that you can unlock your external hard drive with just the swipe of a smart card, no passwords needed
It also has a 256-bit AES Full Data Encryption (FDE) security along with the NFC
It offers a storage capacity of either 1 TB or 2 TB, which is more than sufficient for most people to maintain what they need
The MiniStation is portable and is housed in a shock-resistant case, protecting it against any accidental falls
It has LED lights that glow to let you know if you are using the USB 2.0 port or the USB 3.0 port
Comes with an extension cable
Pros
Compatible with both Mac and Windows systems
High-end security NFC and 256-AES encryption
Shock-resistant
Cons
Weighs more due to being shock-resistant
Transfer speeds are average
Takes a long time to set up
Western Digital has become one of the most well-known names when you discuss external hard drives. Its external drive My Passport offers numerous features, along with a good amount of storage space.
Features
It is available in storage capacities from 1TB to 4TB, giving you plenty of storage space for numerous files or even back-ups
Easily portable, so walking around with all your files and documents is not an issue
Its grooved top half gives you a more secure hold on the drive, so it doesn't slip out of your hands
It has a 3.0 USB port, allowing easy connection with other devices
It comes with password protection, 256-bit AES security encryption, and Western Digital's own Digital Discovery Software so you can keep your documents secure from prying eyes
It comes with cloud storage space, which means that you can connect it to cloud services as well
Available in three colour choices: red, blue, and black
3 years warranty period
Pros
256-bit AES security encryption                                  
Large storage capacity
Easy to use
Durable and lightweight
Cons
Transfer speeds are average; it is slower than most external hard drives
Overpriced
Western Digital designed the My Book external hard drive to be all about the storage space and performance. It provides you with more than enough space to save a lot of videos, pictures, documents, or any other digital data you want to be saved.
Features
Designed to be a desktop external hard drive, with a large storage capacity ranging from 3TB to 8TB
It provides 256-bit AES security encryption, so all your files are safe and sound
Fast transfer speeds, allowing for quick back-ups
Designed vertically with sleek, rugged looks, that allow you to easily place it on your desk while taking up a minimal amount of space
My Book can also be attached to gaming consoles, making room for more games that can be played online
Pros
Large storage capacity
Great transfer speeds
It comes with a 3-year warranty, which is longer than what other companies offer
Cons
Requires a wall-based power source
Not easy to move around
Some users have reported losing their saved data within a year
The LaCie Rugged RAID Shuttle external hard drive is designed for individuals that need to be out in the field. This drive is ideally suited for photographers, researchers, and filmmakers that can't afford to lose their information and don't work at a desk.
Features
Designed to withstand falls and accidental drops, it has shock-resistant cases to protect it
It comes with IP67, which is meant for extreme weather. It will protect it from rain, dust, and is pressure-resistant
It also has 256-bit AES self-encryption, ensuring that all your hard work stays safe
Large storage capacity, with variants available up to 8TB
It has fast performance speeds
This drive offers software that will automatically back-up your data
Comes with bundled USB cables
Pros
Portable hard drive
Protected from harsh weather and falls
Offers various connectivity options
Enormous storage capacity
Cons
Expensive for some users
There is no tab over the Type-C USB port, leaving it open to dust and water damage
The Seagate Back-up Plus Desktop Drive is intended to be the ideal place to back up your important digital data at home, work, or your place of business. It provides large amounts of storage space and higher speeds to transfer your digital data to a secure spot.
Features
The Seagate Back-Up has a storage capacity of 5TB to 8TB; this is more than enough space to keep back-ups of all your files
It also has two ports at the front that allow you to charge other gadgets or connect another external hard drive while you work
Its sleek design saves space on your desk
Works well with both Windows and Mac operating systems. It does need to be formatted to work with Mac
It comes with Seagate's Dashboard Back-Up Software, which gives you three back-up options. It allows you to back-up your PC, your mobile phone information, and all your social website information
2-year limited warranty
Pros
Fast transfer speeds
Large storage capacity
Affordable price
Cons
It requires a wall-based power source
Not portable
Not user-friendly
What You Should Look For When Buying an External Hard Drive
Storage Capacity
The storage capacity is probably the most crucial aspect you need to consider before buying an external hard drive. It might have many other great features, but if it can't hold what you need it for, then it becomes useless. You also don't want to pay extra for a lot of storage space that you are never really going to use.
You can determine which storage capacity is the most suitable for you by determining what you need the external hard drive for. Hence, you should ask yourself the following questions before making a purchase: will you just use it to store music? Will you transfer multiple files with it? Are you thinking about using it to back up your home system or do you just need a place that holds your sensitive documents?
We are confident that you will find the optimum storage space for yourself once you answer the above-mentioned questions.
Portability and Sturdiness
Another essential aspect you need to consider is the hard drive's portability and sturdiness. You might need an external hard drive to transfer files back and forth for your job; if you're travelling around pretty often, chances are that you might drop it. Hence, you would want it to be sturdy enough to withstand a fall, but not so heavy that you feel like you're carrying your entire PC around with you.
However, if you're considering an external hard drive for the purpose of backing up your home system, then portability and sturdiness don't need to be on the list of must-have factors.
Transfer Speeds and Compatibility
It would be pointless to buy an external hard drive if it takes forever to transfer files from the source to the hard drive or vice versa. An ideal hard drive should have high transfer speeds to be less time-consuming.
Another essential factor you need to consider is whether the external hard drive you buy is compatible with your computers; for example, not all external hard drives work well with Mac.
Recommendation
Although the above-mentioned external hard drives all perform well, we would recommend the Buffalo MiniStation Extreme NFC external drive. It is a little bulky due to the shock-resistant casing it comes in, but when you think about it, the weight doesn't matter next to all its other benefits. The security and storage space it provides allows you to connect this device anywhere you like without prying eyes getting into your digital data.
Conclusion
External hard drives are more than just a way to transfer files; they can help ensure that you don't lose any of your valuable documents and files. They can provide a safe storage space from hackers and protect you from malicious malware and spyware. Since the final decision is up to you, we would recommend buying any of these 5 external hard drives that suit your needs and preferences the best.